I love to have a new dress for Easter and I managed to squeeze in making me one despite the fact that I have been super busy and thought I would just be able make outfits for the girls.
I choose a dress pattern and fabric that I have had mixed feelings about. The fabric is some a friend gave me, so it was free and that is great. I completely have flip flopped about it. On one day, I would love the bright colors and big floral prints. On another day, I thought it looked garish and thought it would overwhelm my short frame.
I had similar thoughts about my the dress pattern. It was part of a package of floral themed patterns by burdastyle (affiliate link) that I bought in the Spring of 2014.
(03/2013#113
) This particular dress was my least favorite of the bunch but when I went to actually sew a dress this Spring, it is the one that stuck in my mind.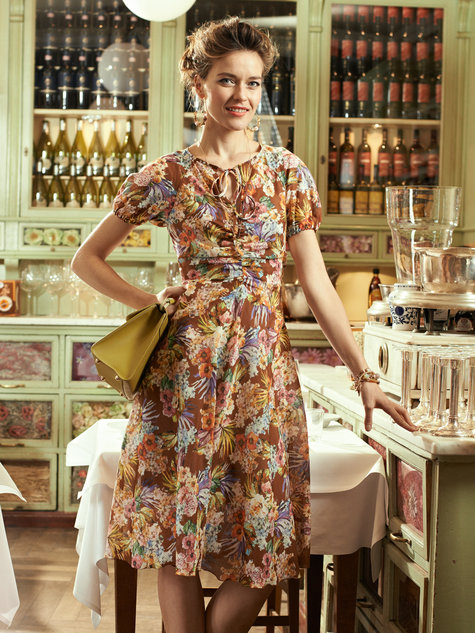 Dress as styled by Burda
So, I started working on the dress. I taped the pattern and read the instructions and again started having second thoughts. I was not sure about the gathers up the front and the shape seemed odd. And as I worked with the fabric, I was impressed with the way it felt but still was quite intimidated by those giant bright flowers.
I kept on going. I did not have time to start a different dress and decided to press on.
However, I did no fittings. None. My measurements put me squarely in a size 40, so I did not think it was too risky and I just did not have the heart to try it on and find out it was ugly. Only once did I check things out by putting the dress on my dress form to check the zipper. (The pattern called for an invisible zipper which I normally would love but I went with a standard zipper because it is what I had on hand.)
So on Easter morning, I showered and put on my dress ... for the first time. And when my husband walked in he said, "You look beautiful. I love the new dress."
Yea! I guess it was a success and now I have a nice floaty dress for the warmer weather.
If you are interested in hearing more from us, there are a couple ways for you to keep in touch!