I came across this great
FREE
pattern on the burdastyle website and had to try it out. And since I have been basically in a travel status since November 2nd, I figured it was a fitting project.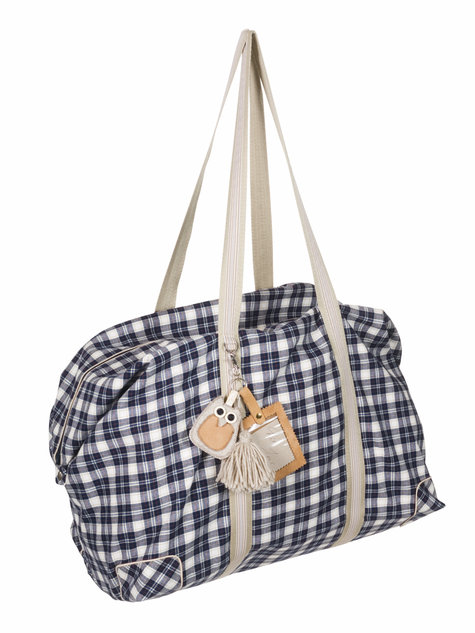 burdastyle's version
I used a fun print I found in the upholstery section of Joann. I was chatting with a woman who was also staring at the roles and roles of fabric and we were sharing opinions as we tried to make a decision. I told her I was trying to step out of my comfort zone a bit and was purposely choosing something I normally would not gravitate toward. As for my selection, I would actually recommend a heavier weight fabric than I used... so go for something the weight of denim. I did use vinyl for the corners though and loved how that added extra durability and textural interest.
The pattern name is Overnight bag 12/2010
#142 (pretty creative name, huh???) and you can download it on
Burdastyle.
You will need a 60 inch wide fabric to make the bag as designed. My fabric was only 56" so, it is a little less deep than originally intended. That slight modification was fine with me but I should have shortened the straps accordingly. I might double back some of the top of the strap and sew it to itself to shorten it. First I want to use it a few times though before I make any changes.


Other special materials required webbing or some other durable twill fabric to create your straps, piping, hardware for the tag, and a heavy duty zipper. I used some of the vinyl to make a luggage tag too.

I would classify this as an advanced beginner project. You have to draw out your pattern and the corners are a bit tricky. The techniques were just a bit new for me, but if you read the instructions slowly, the actual construction is not hard.
The corners are what really make this bag.
I love the look of this bag and how it is so functional. Other fabric great fabric choices would be denim, heavy weight upholstery, and leather. It has a very boxy shape and I am sure I could stuff a lot in here.
Do you have "homemade" luggage?
If you are interested in hearing more from us, there are a couple ways for you to keep in touch!